DON'S PAINTING CHUMS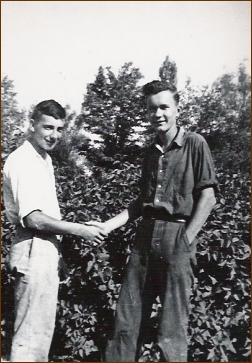 Don's very first painting chum was Graham Everett. When these boys were only 16 years old they would go on painting hikes in the countryside around their hometown of Bracebridge.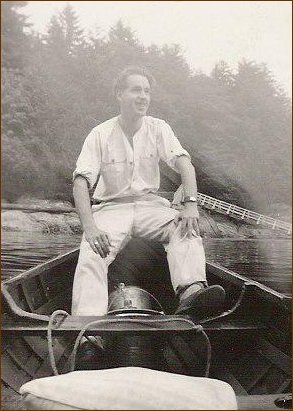 In his early years in Toronto, from 1939 to 1941, outdoor painting for Don Fraser, would often involve going for a tramp down into the Don Valley with good friend and fellow OCA student Al Colton.
Using oils on pulpboard, they would record their views of the old trees and of the Don River itself.
After serving in the Air Force during WW II, Al Colton became a painter and teacher in British Columbia.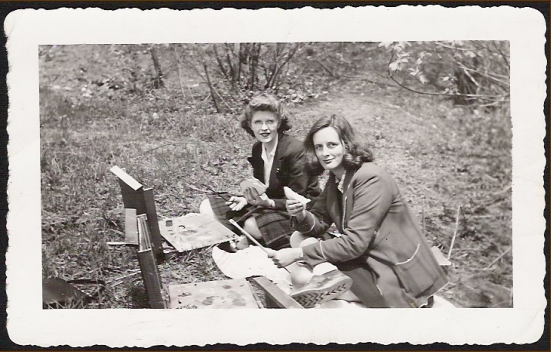 Jo Manning, a good friend, and an OCA student at the time, was a keen sketching companion too.
She later developed her expertise as an artist in the field of etching.

Here is Jo Manning, brush in hand, in front of her paint box, sitting next to OCA classmate Mary Ross c.1947


Here are Mary Ross and Harvey Okawara and Don Fraser, all friends from OCA, with their sketch boxes down in the Don Valley near Hogg's Hollow ready for outdoor painting in 1947.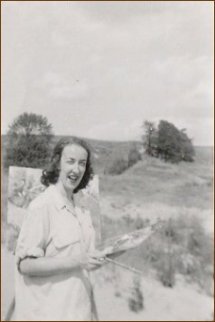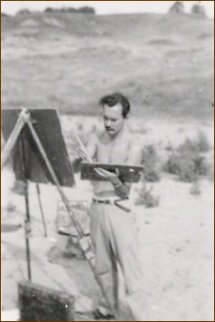 Painting out under the sky was an interest shared by Don and his first wife Joyce McKay. These photos show them both at their easels near Bolton in 1952.

In the early 1950s, when Don discovered the painter Ross Robertshaw standing in a back alley in downtown Toronto, working on an oil portrait of the dilapidated sheds, there was a meeting of minds.
Like Ross, Don was smitten by the interesting forms taken on by deteriorating buildings.
This led to a deep and enduring friendship and many years of painting and philosophizing together.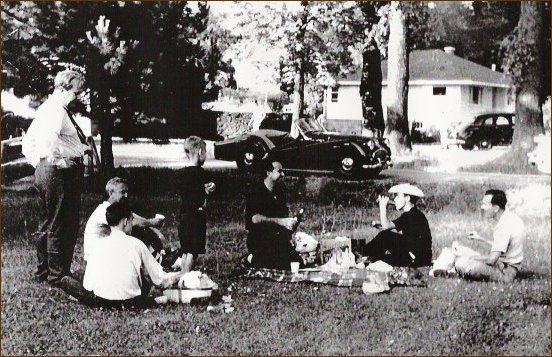 Artists John Alfsen and Albert Chiarandini often painted with Don in the countryside around Uxbridge in the 1950's. They are pictured here, picnicking in Uxbridge in June of 1955 - John Alfsen, his two sons Adam and Andrew, together with Tom Lepoidvin, Albert Chiarandini and his son, and Donald Fraser.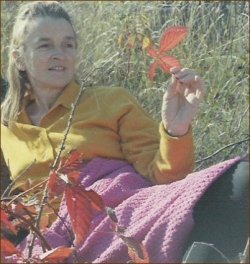 Another great roaming and sketching friend was Eunice Fleming. This photo of Eunice was taken by Don when they were north of Bracebridge in October of 1969.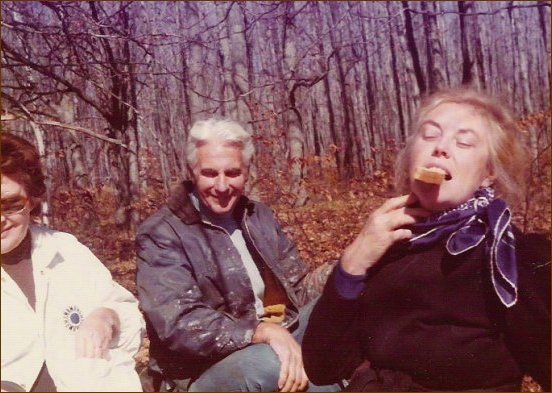 The painter Ron Leonard was also enthusiastic about painting in the great outdoors with Don. This photo of his wife Catherine and Ron (in his paint jacket) and Christina Leonard, taking a break from painting was snapped by Don in 1975.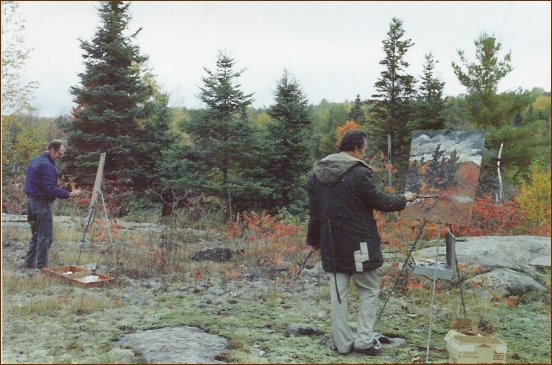 Ross Robertshaw had a truck that didn't mind getting daubed with oil paint, so Ross and Don would take off for a week at a time, roaming the back roads of Ontario seeking "good spots" to depict in paint the rocky landscape and marshes which they both loved; they sometimes spent their nights camped in the back of Ross' pick-up truck. This photo of Don and Ross at work near Buckhorn Ontario, was taken by fellow artist Rudi Phillips in October 1980.
In the mid 80's when Don retired from his job at CBC in Toronto, he and Catherine moved to their farmhouse near Queensborough Ontario. He then had much more time to devote to rambling and painting in the countryside.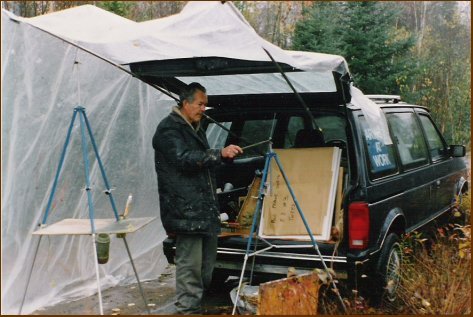 Another frequent painting buddy of Don Fraser's, around this time, was artist Poul Thrane, who should have won the award for outwitting the elements when it came to "plein air" painting. This photo shows how Don benefited from Poul's well-outfitted van one cold rainy day in October 1992 in Algonquin Park.